"Great things never came from comfort zones"
Venture Cup is the competition for the entrepreneurs of tomorrow. Our purpose is to connect people with ideas with experts and the crowd, to ignite the creation of new businesses and empower the growth of Sweden. Venture Cup offers inspiration, education, guidance and the oppertunity to build a solid network. 
STARTUP 2023 is now closed!
Many thanks to all of you who sent in your contributions.
Now we have chosen the winners!
Innovative ideas for managing water resources and sustainable water supply were awarded in Malmö and Gävle!
Arrange competition
We are always open to organizing competitions for others. If you're thinking of running a contest, let us know!
Newsletter
Do you want to take part in Venture Cup's news in your region? Be sure to sign up for our monthly newsletters.
Venture Magazine
A magazine about inspiration, innovation and entrepreneurship signed Venture Cup Sweden
Do you want to work with us?
Read more about what it's like to work at Venture Cup and apply via the button below.
Promotes Swedish growth since 1998
Venture Cup offer a proven process for everyone who carries a business idea. Experts from different industries get involved on a non-profit basis by giving feedback on all ideas submitted. Venture Cup offers inspiration, education, guidance and the oppertunity to build a solid network.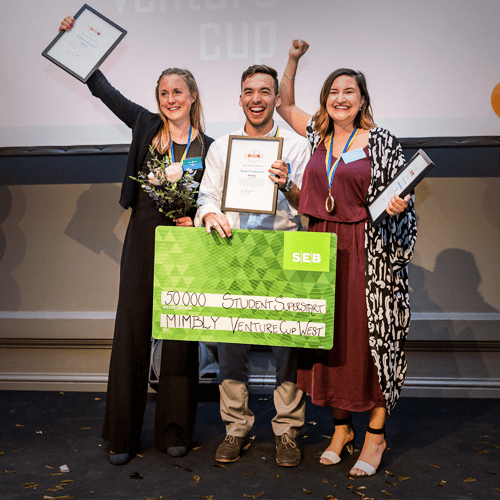 ENTREPRENEURS WHO HAVE COMPETED
WHICH HAS BECOME BUSINESSES
The gossip
about
Venture Cup...
"Venture Cup is a leading organization that helps entrepreneurs turn ideas and knowledge into new growth companies, which is something society needs and we want to support. The process is well structured and so much more than just a competition - all participants receive feedback, coaching, inspiration and training through a large non-profit commitment from senior profiles in various areas of expertise."
Daniel Alsén
Partner McKinsey & Co
"Venture Cup is a great tool where you get professional help to investigate whether a business idea can be profitable! The competition mainly helped me to structure and think through the whole process on how to develop a business concept around the product SKIPAC®."
Sofia Johansson
Founder SKIPAC®
"Venture Cup is one of the most publicized and respected competitions of its kind in Sweden. There are so many success stories that have come from ideas that have won that we feel it will increase our chances as well. Since our main goal is getting the PeckiiLess solution into as many hands as possible, anything we can do to increase our chances is time well spent."
Marzyeh Advand
Founder PeckiiLess
"We have learnt a lot. When we have to put what is on our minds and discussed multiple times and explain it to someone else, your business plan is no longer a draft. Venture Cup is a great way to force you to present your idea, get constructive feedback from experts and make some great contacts in the future that can help you develop further your idea."
Jorge Roman
Founder FastKrono
"Venture Cup is probably the most important entrepreneurship competition on a national level. To win is to be recognized as one of the most prominent, interesting and viable startups in Sweden."
Manolo Obaya
Business Coach, Founders Loft